December, 2014
now browsing by month
There's really nothing like an email that says "End of Year Blog Report" in the subject line to make you think about just how neglectful you've been of your blog. It has certainly been entirely too long.
Perhaps my lovely new PlannerPad will help me be better about capturing ideas and posting.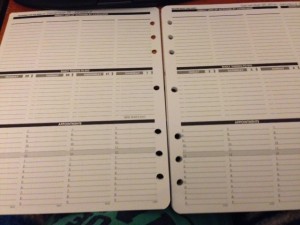 Isn't it pretty?  I have a suspicion it is going to work out well for me, but I'll save the full review for later when I've had a change to use it.
Christmas was fun this year, full of sentimental presents like this one.
It is a jigsaw puzzle of one of Ceausescu's palaces. No, I've never been to Romania, nor do I have a particular fondness for the Communist Party, but Le Premiere Chat is named Ceausescu.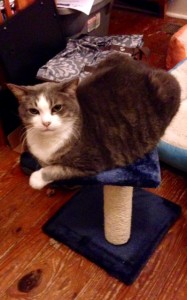 Clearly his new environment is not up to his standards.
Each year the DH and I try to get each other something fun, the result is that I often get coffee mugs of some sort. Trust me, I am not complaining.  You know how much I love my serial killer mug collection. Last year, it was a mug covered in Shakespearean insults. This year the DH dug a little deeper and ordered me this little beauty.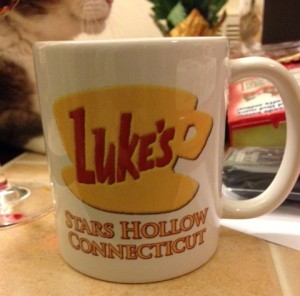 Okay, so my Gilmore Girls obsession has cooled in recent years, but he did pay attention at some point, and he had to brave the wild internet to get this for me. Trust me, this is not his territory.
It was a wonderful effort, but I do think I stumbled onto Christmas gold with this $7 beauty from Walmart.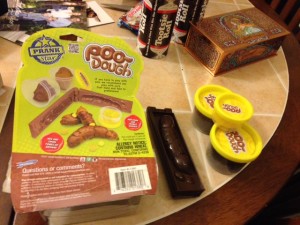 Yes.  It does say Poo Dough. It comes with a mold, two tubs of brown dough, and the truly brilliant element a small container of yellow dough.  Yellow dough is essential for creating your very own kernels of corn, or peanuts if you want to get extra creative. Yep. I won Christmas with this one. How do I know?
My mother in law sent me a text asking where I found the Poo Dough because all of the DH's family wants some. It is exactly their sense of humor.