Sante
now browsing by category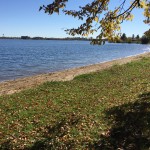 When I was 9, my dad built a trailer to pull behind our red Malibu classic station wagon. We crammed it and the car full, leaving just enough space for my little brother's car seat to sit in the middle of the back seat and me next to him.  I don't remember much about that move, because I slept through much of it.  My strongest memory of that trip is the afternoon stop for coffee. Wherever we were I would always order the cherry pie. The end result of that trip was our eventual move to Aberdeen, Wa.
For the next thirteen years, if anyone asked me where I was from my first answer was always Minnesota.  My logic was that I was born there, and all my extended family was there: my aunts and uncles, older and younger cousins. When I met my cousin for lunch the other day, she reminded me of something else.  Apparently, I also used to constantly talk about moving back to Minnesota.  Someday I would live here again. Though I don't remember talking about this in particular, I don't doubt it is true. Well, after thirty-two years, I have apparently gotten my wish.
As with most wishes this is good and bad.
Now that I am ostensibly "home." I feel less at home, and more homesick, than I have in a long time.  The gift of not having strong ties to particular physical space is that I can general make any place I am feel like home. The problem with this is that my definitions of home are often tied to particular groups of people.
So, while I don't miss the job, the humidity, the struggles I faced, the decrepit house we lived in, I do miss my Southern friends, my Southern family.  Though many of my grad school friends have moved on to their careers other places, the most important were just an hours drive away. My work friends, who I never saw enough of, the most important of whom I could have worked with again this year.  My Durham friends, who I saw even less of, but who had just moved less than a mile away.  Though not ideal in so many ways, my Durham life had just coalesced in important ways; yet, between May and July I blew it apart.
Certainly missing my friends isn't the only thing making me feel less than at home in my new location, but it is probably the most obvious and least complicated.
This week in The Malarkey Bin I followed a link to this article about Why I Can't Afford Not to Go to Planned Parenthood. It is a powerful, required reading post that also inspired me to tell my own Planned Parenthood story.
In a way my story is a success story.    There was a clinic in my home town.  It was accessible, and I didn't have to negotiate protesters or strict security to get to my appointment.  It was the early 90s,  and the thought that there had been a time when women weren't able to take control of their health care amazed me. Yes, I was more than a little naive … give an 18 year old a break.
According to Wikipedia in 2010 my hometown had a population of 16, 896 people. Sounds about right, I'd be willing to bet there were a few more when I was growing up, maybe around 18,000? The population isn't as important as knowing that our town was poor.  Built up around an industry that has been dying since before I was born, the town was small, without a lot of diversions for kids. Once you got your license the first thing you did was drive 50 miles east to the State Capital to start hanging out at the mall there, or 20 miles west to the beaches. We may have grown up in the twin shadows of Ted Bundy, he had allegedly tried to pick up a friend's mom in a bar, and the Green River Killer, still active north and east of us, but I would argue we were the last of a generation of free range kids.  From the moment I moved there when I was 10 I was walking all over town.  Either 6 blocks from our apartment to the public library, or the longer mile to my elementary school every morning.  Before my friends and I got our driver's licenses, and even after, we would walk all over town.
So, while it wasn't all terrible, for the purposes of this tale the best image to leave you with is this:  when I first heard of the alleged Pregnancy Pact in Gloucester, Ma., the only thing that surprised me about the story was that it happened somewhere other than my home town.  Even when I graduated, I'm pretty sure no one got out of our high school without knowing at least one person who had gotten pregnant before graduation.   Before I got out of the town for good, the age at which girls were getting pregnant just seemed to be getting lower.  My brother, sister, and I joke that the greatest accomplishment in our family was all three of us getting out of that place without having a kid before we were 18. We don't make that joke at anyone's expense, many of the young parents we know are some of the best parents we know, and when you are young in our home town there is not a lot to do outside the backseat of a car.  If it weren't for the Planned Parenthood clinic in our town, I don't think I could even estimate the number of teen pregnancies we would have seen in my high school.
Right now, you are probably imagining a much different story than the mundane one I am about to tell.  Although I'd contemplated it for a couple of years before, it wasn't until I had graduated from high school that I visited our clinic. The funniest part about high school for me was that by the time I graduated I knew that at least twice rumors had spread that I was pregnant, and at least once there was a conflicting rumor that I was a lesbian.  It was all amusing to me because I was pretty sure I was the only person I knew not sexually active.
What lead me to Planned Parenthood? I'd read that when a woman turned 18 she needed to have her first Pap Smear, so I made an appointment.  I also wanted birth control pills to regulate my periods and alleviate my cramps.  My cramps were so bad that I routinely took 3 – 4 Advil at a time just to get through the days that I had them. I was still working part time at a grocery store without health benefits.  Planned Parenthood was the only place I  could afford to go for standard health care. My story isn't dramatic, but illustrates a point often lost in the current war on reproductive rights.
Planned Parenthood is essential to all aspects of women's health care.
What is your Planned Parenthood story?
The last couple of weeks have been phenomenally busy at work, but it's not like I didn't know they would be.  Much like all my instructor friends know the last few weeks of the semester mean spending all their time in grading jail, I know the first couple weeks of the semester mean spending all my time doing the "Come to the Writing Center" dog and pony show.  The goal is that by the end of the 2nd and 3rd weeks of the semester someone (90% me) visits all the English 100 and 101 classes.  Yes, Virginia, at a school with an undergraduate population twice as big as that of your home town, that is A LOT! You know what else it is?  It is exhausting.
Yes, I do this every semester.  Yes, I know it is coming.  There just isn't anyway to prepare for the amount of energy it takes to give a 10 minute monologue to different audiences 3 times an hour.  In a way it is like grading jail, just front loaded.
Surprisingly, this post isn't really about complaining.  I know.  Shocker.  It's about what I've come to realize, over the last two weeks.
If I ever have a nervous break down it is going to happen in the middle of one of these visits.  I'll be in the middle of the "Here's why you should use our service" spiel, and I'll just throw up my hands and walk out.  I may or may not mutter obscenities under my breath.
This is the semester that the consultants put together a welcome video that we can shop around to hopefully lessen the number of human visits.  I've given them no choice, and a deadline of April 15th.
Oddly enough, when that happens I plan to use that time to start a classroom visit campaign to another set of classes.  Have we discussed my masochistic nature?  I'm pretty sure we have.
If I ever finish the dissertation, and get my 'real' degree, I'm going to have some serious soul searching to do about whether or not this is the place for me.
Also, I'm pretty sure you know you are a writer, when not writing/writing very little for two weeks gives you ulcers.
Really, all this week I've had stomach issues of one kind or another.  Today they culminated in dull pain every time I ate.  So, for the next week or so it is all bland food/and herbal tea for me.  The caffeine headache ought to kick in tomorrow afternoon in the middle of a writing binge fest.