Sante
now browsing by category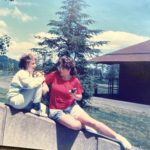 Rowing my millionth meter might not seem like such a milestone to some people. The meter count is a 'lifetime,' or however long you've been using your Hydrow, total. I've never actually rowed on the water or with other people. I've never competed. So, I wanted to try to explain how significant this mile stone is for me. As I mentioned, I've never been successful at gym memberships, or running, or anything really that involves exercise where I can be seen. As I've rowed this last two years and tried to pick out just exactly what it is about it that I have loved, I had an intense realization. I love it, because I can do it alone in my basement, but the athletes and their location make me feel like I am not alone. I can do my workout, feel like a part of a team, and yet, no one can see me.
So much of my recovery from my marriage, and healing from life in general, has been about how feeling invisible wounded me, and how important it has been to let myself be seen and to learn to really see myself. It might seem contradictory for me to be so in love with an activity precisely because it allows me to remain unseen. The dichotomy of my life has always been a sense of invisibility among those who I most long to really see me, and a deeply uncomfortable hypervisibility in public. The sexualization of young girls and fatphobia compounded in my life and created a deep need to control as much as possible how my body shows up in public.
I didn't have the language to understand it or describe it, but I was about 10-11 years old when I realized my body was no longer my own. Here is a picture of me in that time frame, 1983-4. My family had just moved across the country, leaving all our extended family in Minnesota. All of our belongings packed into a Chevy Malibu station wagon and the trailer my dad built to pull behind it, we left International Falls and headed west. My dad drove the whole way, I don't remember much about the trip, except that every afternoon we'd stop at some diner for my parents to get coffee and I'd get a piece of pie. I'd always order cherry, because it was my favorite. When I look at this picture, I see what a child I still was. My legs still seem long and like I might get some good height, but I stopped growing taller not long after this. I hit about 5'4″ in 6th grade and just stayed there. It was the year I got those glasses, so it likely felt like some kind of miracle to be able to sit so far way from the TV and still see. The other thing happening in my body, though and you can see that as well in this picture, is that I'd started developing breasts. By they end of this year, I'd be wearing a bra at least one cup size bigger than my mothers.
It was this point that the adults around me started talking about my body. Well intentioned, or at least neutral observations about how early I'd started developing, but also ribald jokes about what such an early start might mean. Just how big would my breasts get? It was also at this point that older kids started commenting on my body in ways I didn't understand. I remember, being at the school playground one afternoon. I'd either walked back down there to play by myself, or stayed afterschool for a while. I was mostly alone on the playground when two 'older' (maybe sixth grade, boys) came to the playground. We were all on some sort of climbing contraption, jungle gym style thing talking, when the tone shifted and they started asking me if I liked cherry pie and if I had some. Remember, that detail about afternoon stops on our trip out west? That was my only understanding of what cherry pie could be. So, I was confused and more than a little frightened by their tone and questioning. It felt like taunting. I knew some how it was about me, about my body, but didn't understand. I don't remember how I got out of that situation. I think I just walked away and went home. Given our ages, I am not entirely sure they even fully knew what they were talking about.
By the spring of 1987, I am pretty sure I'd outgrown all the estimates about how far my breasts would develop. Yes, that's me in the red shirt, with the most terrible hair, but isn't terrible hair a requirement in 8th grade? By this point, I'd started to understand what made me uncomfortable about the comments and jokes that had progressed to observations about how I must get black eyes when I ran. The boys at school would snap my bra strap, or find some other way to tease me about my breast. I don't even recall what they would say. My most vivid memory is standing in a biology classroom with some popular boy in front of me, in my space, and asking something I knew to be rude and crude. Again, I don't remember my reaction, other than my silence and my face burning. This is also the point in time where I know I began to think of myself as big or fat. I began trying to hide my body in the loosest clothes possible.
By high school, that girl in the white shirt, front center in the bottom row, knew she was fat. The social pressure to be thin had kicked in and she knew that her shirts had to be a certain length to help hide her fatness. She'd had plenty of crushes, but very few serious boyfriends and hadn't really done anything more than kiss a boy. Only one of those boy friends had been from our actual school. The rumor mill, though, it constantly vacillated between the competing theories that I was a lesbian or I was pregnant. I neve could figure that out.
By this point the boys had stopped snapping bras, but the random catcalls on the street had started. The jokes among the adults had changed to innuendos about what would happen when I started dating. Everyone around me was always talking about my body, and I was never allowed to be comfortable in it.
In 1989-90, when I absolutely should have rocked this Wynona Ryder, Heathers, look for Halloween, I never would have dared! This year, though, for my friend's 80s themed fiftieth birthday party, I dared, even though now I am actually fat. I am small-fat for sure, but still fat. (Small-fat is a fat person who can still wear standard sized clothing.) Daring to choose this outfit that accentuates my breasts and doesn't hide my fat, and wearing it to the party, demonstrate just how much I have learned to love and accept myself. How I am willing to step out into the world that may invite the comments I have been trying dodge and ignore my whole life.
Many factors play into the fact that I dared to rock this outfit to that party, but my rowing journey is absolutely a huge part of that. Yes, my body had changed a bit over the past two years. I wear slightly smaller sizes. My always already good blood pressure has gone down and is even better, but the weight on the scale at the Dr.s office hasn't changed much at all. Finding an exercise I enjoy, and that I can do without feeling like I am on display. Has given me the perspective and the strength to resist the incessant fatphobia of American culture and to give myself the compassion and love that everyone deserves. Celebrating my 1M meters, publicly and loudly, means so much to me, because it feels like making my body mine again.

I am still not joining a gym or running in public though. 😉