Coffee and Contemplation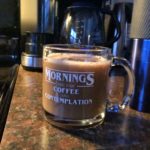 It's been a cold and icy weekend here. Fortunately, both days I've convinced Moshe to wait until the temperature got above 30 degrees before we went for a walk. I love those mornings, because they are so quiet and allow me indulge in my favorite ritual. Drinking a cup of coffee in bed, in the dark, while I read on my Kindle Paperwhite.
I have no idea what other Kindles are like. For me, the Paperwhite is perfect for reading in the dark.
You'd think that, with all this contemplating, I would have something significant to say. You'd be wrong about that. Fortunately, I had material things to distract me this week! Last week, I finally ordered my last big rug purchase for the house.
I went into this rug selection thinking that I'd get a repeat of my multi-colored rag rug from my Aberdeen, NC kitchen. Then I started looking and I realized a jute rug would look amazing on top of my hardwood floors. I think it is also a nice accent to the plant corner in the bay window.
The point here is that for the last year a lot of what I've been contemplating is how to make this house a home that reflects who I am now. There are still things I need to do before everything will be the way I envision it, but the biggest elements for the public parts of my home are put together.
Skirting around the edges of all this contemplation is the question of settling in. I am doing my absolute best to believe, and act as if, I have found my home. As if this job, this house, this area represent the place I am going to be for a very long time. It seems so easy for some people to do this. To build gardens, to landscape their yard, paint walls, hang art with the trust that they won't have to pick up and move in a few months. What I have realized is that none of that is easy for me.
Given how nomadic my life has been since 2015, I guess it makes sense for me to find it difficult to settle in to this place. The morning contemplations are helping, but I don't have an answer for how to fix it, how to settle in and be in this moment. Yes, I know time is really the only thing that will allow me to settle. I'll do my best to enjoy my home as time works its magic.